Meet the Fellow: Nathaniel Umukoro
Food security research addresses one of the urgent challenges of our time

Our 2022 Junior Fellow Nathaniel Umukoro is a professor of Security Studies and International Affairs at Western Delta University in Nigeria. The cooperation with his host Prof. Tim Dorlach resulted in a comparative study of food security challenges in the Global South with special emphasis on Nigeria.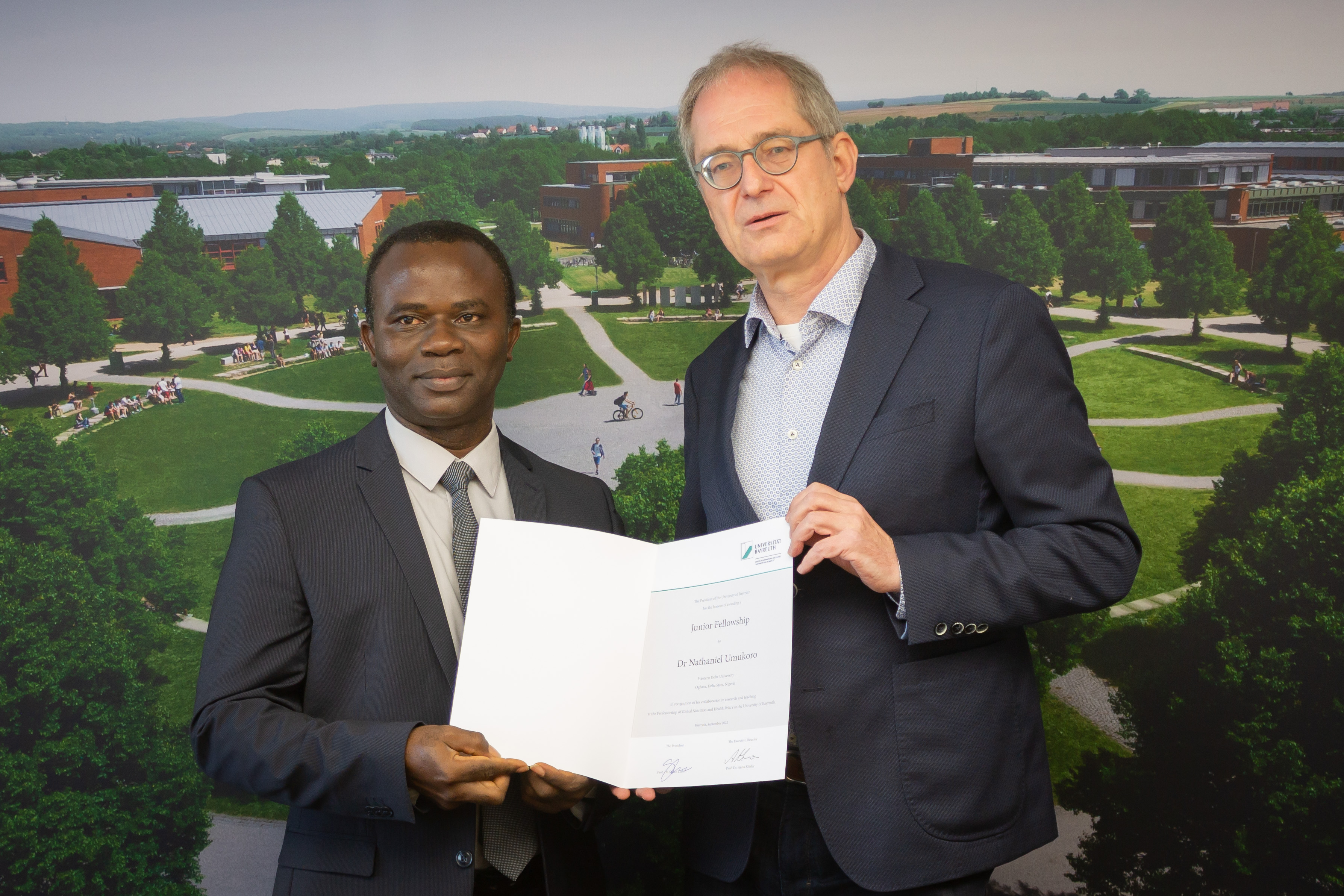 What are the foci of your joint research funded by the Fellowship?
Nathaniel Umukoro: Our research focused on a comparative study of food security challenges in the Global South with special emphasis on Nigeria. We have jointly written an article which we want to publish soon.
In what way is your work interdisciplinary, and what does interdisciplinarity mean to you in academic work and life?
NU: My work is interdisciplinary because we integrated concepts, theories, methods and data from different disciplines to articulate ideas in my research. This helps to strenghten the validity of research findings.
For me, interdisciplinarity is the best approach because incoporating concepts, theories and methods from other disciplines makes it possible for a researcher to examine issues and research problems from a broader and more critical perspective. This helps to ensure that better solutions to problems are identified and recommended.

What is in your opinion the future of your field? In what way can research in your field contribute to meeting the urgent challenges of our time?

NU: Human security which includes food security is very essential for the continual existence of all humans. Currently, food security is a major challenge. Consequently, food security research is very important for meeting the urgent challenges of our time.

What does international research mobility mean to you?
NU: International mobility involves moving away from one's comfort zone or country to other countries or research settings to collaborate with other researchers to find quality and sustainable solutions to local and global problems. In spite of the covid-19 pandemic, my research stay in Germany was very rewarding.
How did the current challenges influence your cooperation?
NU: Although the Covid-19 pandemic influenced the pattern of interactions on Campus, I had rewarding experiences interacting and networking with staff and students in my Faculty and other programs at the University.The pandemic has represented an extremely new experience and a great challenge for all of us. On the one hand, the restrictions imposed by the pandemic have limited the possibilities to stay in contact with other researchers, not only internationally but also nationally. Conferences had to be cancelled, planned research stays abroad had to be postponed. On the other hand, it opened opportunities for sustainability research, which deals with interesting topics such as climate risk, health risk, and the interaction between health risk and climate risk.
The Fellow
Nathaniel Umukoro is a Professor of Security Studies and International Affairs in the Department of Political Science, Western Delta University, Nigeria. He completed the Peace and Conflict Studies PhD program at the University of Ibadan (Nigeria) as a fellow of the Next Generation Social Sciences in Africa unit of the Social Science Research Council, New York. He has over 100 publications to his credit. He is currently the Director of the Institute of Delta and Development Studies, Western Delta University, Nigeria.