Meet the Grantee: Aruna K Kalasapurayil
Indian-German cooperation studies new materials for sustainable energy production

Our Grantee Dr Aruna K. Kalasapurayil came from India to Bayreuth to study novel materials for the electrochemical water splitting reaction with her host Prof. Dr Mukundan Thelakkat – and enjoyed learning, researching and networking on our beautiful campus.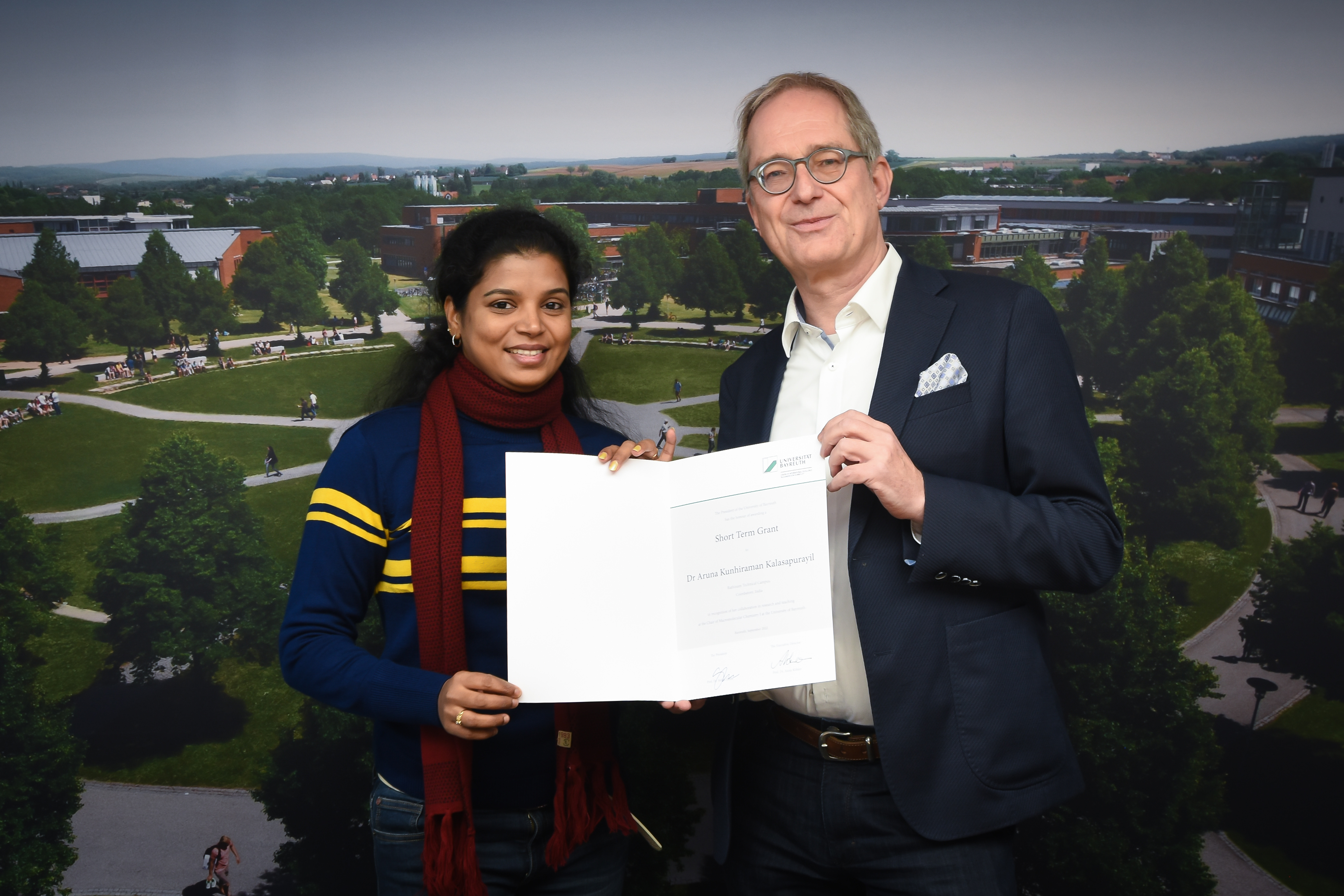 What are the foci of your joint research funded by the Short Term Grant?
Aruna K Kalasapurayil: The focus of my visit was to perform physicochemical and a few electrochemical studies on novel materials for the electrochemical water splitting reaction which were developed at my home institution. Another aim of the joint research was to establish networks with various scientific groups working in the area of electro- and photocatalysis at the University of Bayreuth. As a part of my research stay, I was able to establish collaborations with Dr. Christina Roth and Dr. Roland Marschall.

In what way is your work interdisciplinary, and what does interdisciplinarity mean to you in academic work and life?
AK: Being an electrochemist, I work in an interdisciplinary field which deals with both electricity and chemistry. My research is focussed towards developing and engineering novel materials for electrochemical energy storage and conversion systems like fuel cells, batteries, super capacitors, water electrolysers etc. where material science plays a vital role. A synergy of physics, chemistry and engineering aspects is well required for creating a prototype model of my research work.
Interdiciplinary aspects are equally important in life as well since we all are dependent on one another either directly or indirectly.

What is in your opinion the future of your field, and in what way can research in Electrochemistry contribute to meeting the urgent challenges of our time?
AK: The world is moving very rapidly towards renewable and sustainable ways of energy production. In the race, green hydrogen has occupied the top position as it is able to address the rocketing global warming issue at a much faster rate than any other mode. My area of research is part of the global green hydrogen mission.

What does international research mobility mean to you?
AK: International research mobility is very important as it positively effects scientific productivity and thoughts. At the same time, it is an opportunity for students and faculties to establish global networks and to understand and analyse the various platforms for future collaboration and positions.

What was your personal experience during your stay?

AK: I was able to establish networks, which is motivating me to visit the University of Bayreuth again in order to keep learning, exploring and researching.
The Grantee

Dr Aruna K. Kalasapurayil, working as Associate Professor in Rathinam Technical Campus, Coimbatore, Tamilnadu, India, is an expert in tailoring and engineering materials for energy storage and conversion systems. Her research focus is on the development of non-noble materials such as oxides, chalcogenides and carbon nanostructure (graphene, carbon nanotube and activated carbon), which can be used as electrocatalyst for various energy systems like fuel cells, water electrolysers, batteries and supercapacitors. Dr Aruna has published more than 20 peer reviewed international journal papers and acts as potential reviewer for international journals. She is also running a few Indian Government funded projects on energy systems.