Meet the Grantee: Huong Dieu Dang
Sustainability, Climate Risk and Sovereign Credit Ratings – A cooperation between New Zealand and Bayreuth

Our Grantee Dr Huong Dieu Dang and her host Prof. Klaus Schäfer are working together on an interdisciplinary project that deals, among other things, with the question of how exposure to climate risk affects sovereign credit risk.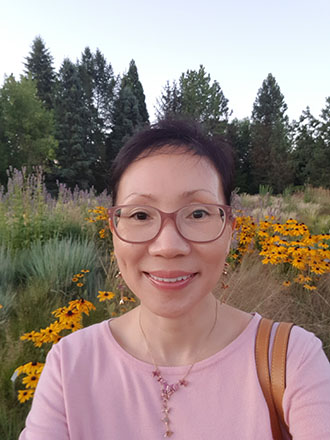 What are the foci of your joint research funded by the Short Term Grant?
Huong Dieu Dang and Klaus Schäfer: In our joint research project we examine climate risk exposures, environmental awareness and attitudes toward climate risk at the country level. First, we identify whether and how exposure to climate risk and the readiness to cope with climate risk affect sovereign credit risk. Secondly, we examine if and how national culture and individual attitudes impact on sovereign creditworthiness. We utilise several datasets to investigate our research questions. Our preliminary results show that countries that are ready to address climate risk, long-term oriented societies, and nations where people are willing to raise tax for environment causes enjoy a lower degree of credit risk. In contrast, countries that are more vulnerable to climate risk and whose people exhibit a tendency to cheat on tax are subject to a higher level of credit risk.
In what way is your work interdisciplinary, and what does interdisciplinarity mean to you in academic work and life?
HD and KS: Research on sustainability issues has to be interdisciplinary. In our joint study we can't argue in purely economic terms. Our empirical analysis employs datasets that include national culture dimensions and survey responses on individual attitudes towards tax and environmental causes. Our analysis also incorporates institutional and legal framework. Our results emphasise the substantial influence people's behaviours and cultural aspects have on reaching sustainability goals.
What is in your opinion the future of your field, and in what way can research on Finances contribute to meeting the urgent challenges of our time?
KS: Climate change and environmental degradation are an existential threat to the world. The political decisions at the European level are obvious. To achieve the goals set by the European Green Deal, financial decisions and policies play a crucial role. In addition, sustainable finance measures like the EU-Taxonomy for classifying green investments should boost private sector investment in green and sustainable projects.
HD: New Zealand passed the Financial Sector Amendment Bill (Climate related Disclosures and Other Matters) in 2021, and became the first country in the world to require the finance sector to disclose environment risk and opportunities. Our joint research highlights the importance of climate risk and its effects on sovereign creditworthiness.
What does international research mobility mean to you?
HD and KS: Research needs direct communication, though not at every step of a research project. However, it is important to be able to meet and exchange research ideas, at least at annual conferences. To establish more intensive contacts and develop productive cooperation, it is very important for the progress of important research that we have the opportunity to work together at one location for an extended period of time (3-6 months). International research mobility is of high importance especially for researchers at the beginning of their career and for those who conduct interdisciplinary joint work.
How did the current challenges influence your cooperation?
HD and KS: The pandemic has represented an extremely new experience and a great challenge for all of us. On the one hand, the restrictions imposed by the pandemic have limited the possibilities to stay in contact with other researchers, not only internationally but also nationally. Conferences had to be cancelled, planned research stays abroad had to be postponed. On the other hand, it opened opportunities for sustainability research, which deals with interesting topics such as climate risk, health risk, and the interaction between health risk and climate risk.
The Grantee
Dr Huong Dieu Dang is a Chartered Financial Analyst (CFA) and a Senior Lecturer above The Bar at the University of Canterbury, New Zealand. She obtained her PhD degree from the University of Sydney and her Master's degrees from the University of Arizona. Her research interests include sustainability and credit risk, which form the foci of her joint work with Prof. Klaus Schäfer, the Chair in Finance and Banking at the University of Bayreuth. Dr Dang's research has been published in respected outlets including Pacific-Basin Finance Journal, Global Finance Journal, Journal of Financial Economics, and JMIR Public Health and Surveillance.