Meet the Grantee: Hanwool Choe
Korean online eating leads to face-to-face meeting in Bayreuth

Our Grantee Dr Hanwool Choe visited Bayreuth and her host Dr Sofia Rüdiger to work on their joint project on the Korean phenomenon of "Mukbang" – an online eating show – from a linguistic perspective. She spent two productive weeks in Bayreuth, enjoying the advantages of working in a town so very different from Hong Kong.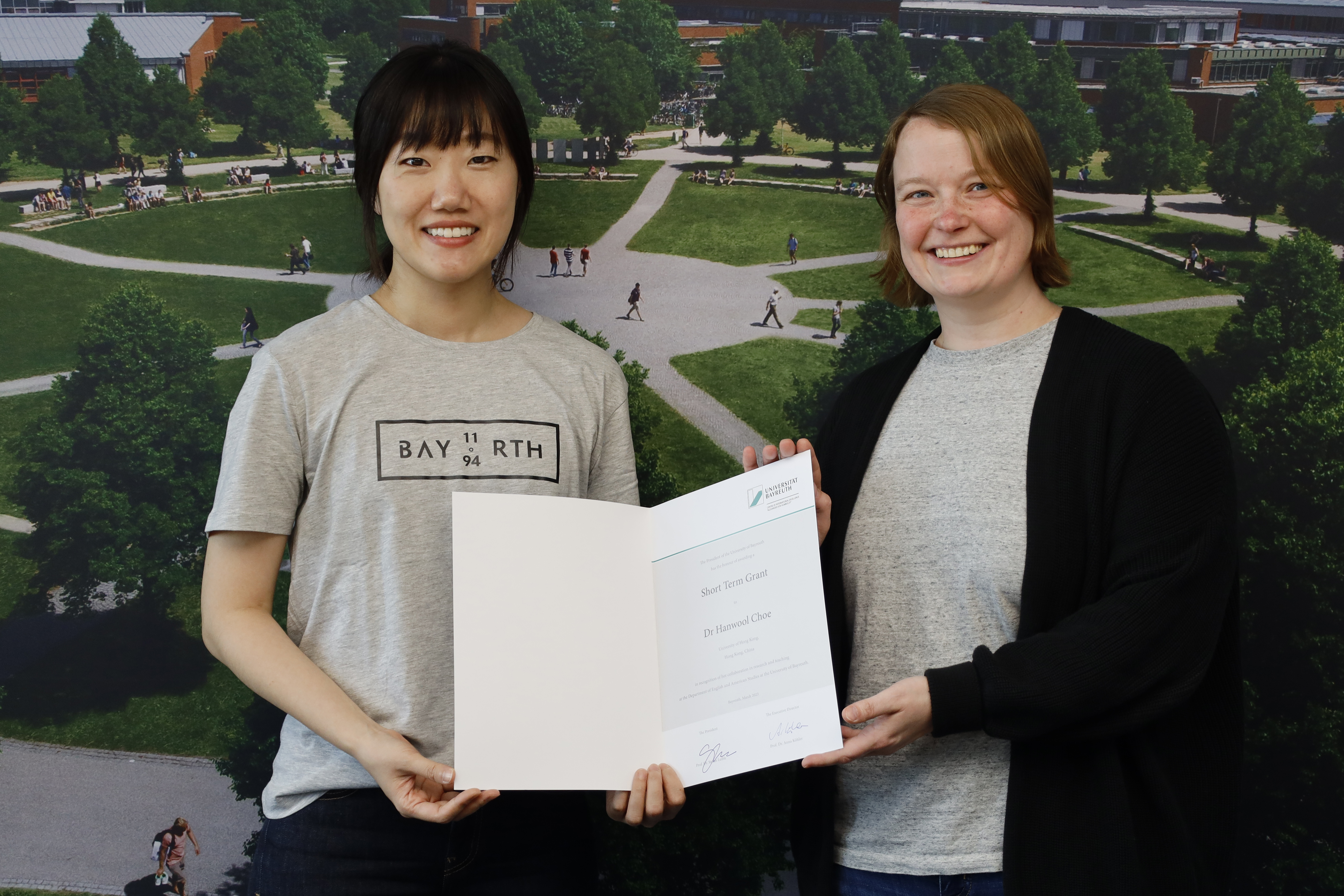 What are the foci of your joint research funded by the Short Term Grant?
Hanwool Choe: My joint research is interdisciplinary, Sofia Rüdiger and I aim to bring together qualitative discourse analysis and corpus linguistics to study how the news media reports mukbang, or a type of online eating show where people display and eat while interacting with viewers in real time, and therefore (re)shapes our understanding of food and language use.

Second, our collaborative research is cross-cultural. Analyzing English-written news reports about mukbang, originated from the Korean internet, we consider how the practice of watching and doing mukbang is understood in the context of Western news media. Therefore, we intend to discuss how the practice of eating is socioculturally constructed and interpreted. Our conversations and knowledge exchange during my stay in Bayreuth have shaped a meaningful study that we will co-present in September in Sweden at the Food and Communication conference, and publish in a journal afterwards.

In what way is your work interdisciplinary, and what does interdisciplinarity mean to you in academic work and life?
HC: As a qualitative researcher studying how people interact with each other, interdisciplinarity means to me a channel of communication with other researchers who have different perspectives and viewpoints. Working with Sofia Rüdiger, a corpus linguistic researcher, allows me to learn different data collection tools and analytical approaches and to form a broader and more inclusive understanding of how people communicate with others.

What is in your opinion the future of your field, and in what way can research in your field contribute to meeting the urgent challenges of our time?
HC: Digital food discourse is receiving increasing scholarly attention as it shows how technologies broaden and diversify our understanding of food and eating. Mukbang (online eating show), a type of digital food discourse and a topic of my joint research funded by the Humboldt Center of the University of Bayreuth, is a great example that presents how the practice of eating together is virtually embodied as a form of watching someone eating and reshapes what it means to eat together. Especially, during the pandemic, people used mukbang as a way to reconnect to their family and friends. Having virtually shared mealtimes via zoom (eating their own food with a camera on, while interacting with people), people were able to continue to have a sense of connection and togetherness.

Besides mukbang, a variety of topics in digital food discourse will be continuously and rigorously studied and it will contribute to our understanding of how food and eating practices serve as a window into our society and culture.

What does international research mobility mean to you?
HC:The Bayreuth short term grant allowed me to meet (again) my host, Sofia Rüdiger, in person and to focus fully and unconditionally on our collaborative research. I think, the two weeks at the University of Bayreuth were a well-spent, productive, efficient, and meaningful time in researching, exchanging knowlegde and ideas with her. The Bayreuth grants provide a great opportunity for scholars to (re)connect with others in the field, while also facilitating research mobility across the world. As recent difficulties around the world posed extraordinary challenges to our physical mobility, I hope this kind of institutional support continues to help researchers re-grow and re-boost their academic network and take part in collaborations internationally.

What was your personal experience during your stay?

HC: I greatly enjoyed my stay in Bayreuth. Bayreuth is very different from Hong Kong where I currently live and work, filled up with skyscrapers and densely populated. Bayreuth is quieter, more peaceful, and more relaxing with the fresh air, head space, and scenic views!

I liked my walk to the university from my hotel. Along the path, ducks and geese were sunbathing by the lake and swimming. I also liked that daisies are everywhere in Germany!

My host, Sofia Rüdiger made my stay enjoyable and comfortable. She showed me around the city of Bayreuth and gave me a tour of the university. Moreover, she generously let me use her office during my stay and her colleagues also warmly welcomed me. I am grateful for her and her colleagues' kindness.

As a person who was educated in South Korea and the United States, I came to the impression that Germany's higher education system gives students more responsibility and allows them to take a more active role in their learning.
The Grantee
Dr Hanwool Choe (Ph.D., Georgetown University) is an Assistant Professor in the School of English at the
University of Hong Kong. Her research interests include digital discourse, language and food, multimodal
interaction, and life stories through the frameworks of interactional sociolinguistics and discourse analysis.

Dr Sofia Rüdiger is a postdoctoral researcher (Akademische Rätin a.Z.) in English Linguistics at the University of Bayreuth with a research focus on World Englishes, (historical) pragmatics, language and food, and digital communication. She has extensively worked on English in South Korea and is author of Morpho-Syntactic Patterns in Spoken Korean English, published by Benjamins in 2019. She is founder and organizer of BaFoLa - The Bayreuth Food and Language digital lecture series.