Meet the Grantee: Becca Krukowski
"You walked 5.000 steps today!" – How to Provide Feedback for Health Behavior Change

Dr. Becca Krukowski from the University of Virginia and her host Junior Professor Dr. Laura M. König met in Bayreuth to study different forms of feedback e.g. for consuming a healthy diet or being physically active, and their impact on possible changes in people's health behavior.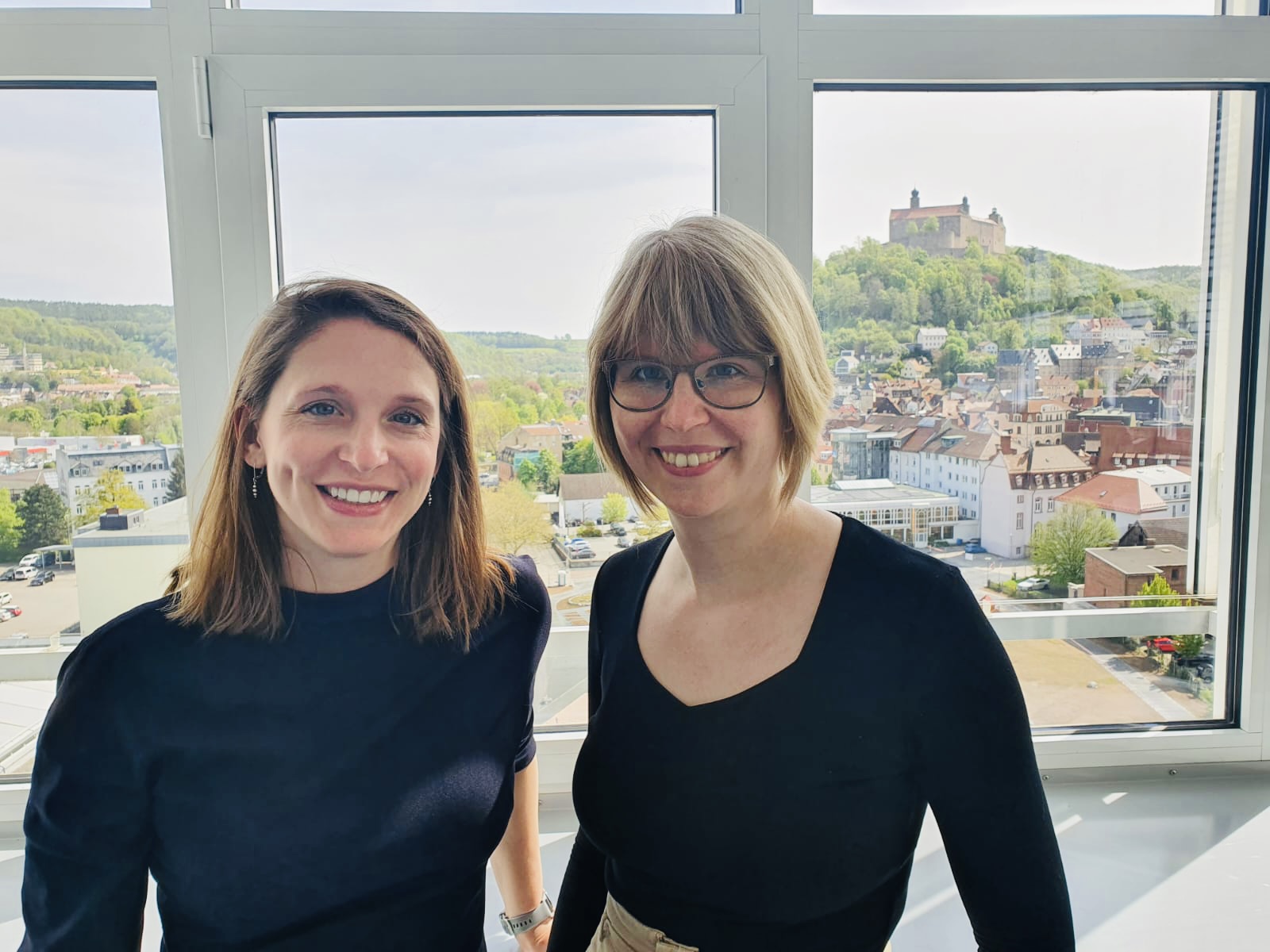 What are the foci of your joint research funded by the Grant?
Becca Krukowski: Not much is known about how feedback for health behavior change should be provided, even though providing feedback is pretty common. For example, many commercial devices provide graphs about our progress in getting minutes of physical activity or will vibrate when we are inactive. However, there are other possibilities for feedback, such as text that might either tell us about what we did well or alternatively what we might try to achieve in the future. There are also quite a few other questions to answer about how to provide feedback. For example, how often should feedback be provided? How long should the feedback messages be? Should feedback be human-generated or can feedback generated by a computer-algorithm work?

Laura König: For our work funded by the Humboldt Centre, we started with reviewing the existing scientific literature to learn as much as we could. Based on the existing literature, we designed a small study to examine the impact of some of these aspects of feedback in our Fake Food lab in Kulmbach, and we are currently recruiting participants for this study. Our next step will be to apply for funding to examine some of these questions about feedback on a larger scale.
In what way is your work interdisciplinary, and what does interdisciplinarity mean to you in academic work and life?
BK: Since much of my research focuses on technology-based weight management, it is, by definition, interdisciplinary. I work often with colleagues in nutrition, exercise science, and computer science, to share our areas of expertise. I also frequently collaborate with health care providers (physicians/nurses), to try to facilitate connections between research and clinical care. To me, interdisciplinary means learning from each other to improve our work.
LK: In the end, health is a truly interdisciplinary field. Without these interdisciplinary collaborations, none of the involved disciplines would make progress. To solve the big issues that we are currently facing, including steadily rising obesity rates, we rely on merging expertise from various fields.
What is in your opinion the future of Public Health / in what way can research on Public Health contribute to meeting the urgent challenges of our time?
BK: Overweight/obesity, consuming a healthy diet, and staying active are very urgent challenges of our time throughout the world. Technology could create even more of a digital divide in access to health programs. My research focuses on using any type of technology (including old technology like a telephone!) to improve access to health behavior change programs to people who may not live close to a university or may have other challenges to overcome (e.g., transportation, caregiving for children or elders).
LK: As psychologists, we are well aware of individual differences and needs. This also means that we know that technology is not for everyone. Although I personally am very interested in digital technology for health promotion and also study digital interventions, I like to remind myself and others that we should not dismiss good old "analog" interventions as outdated. Instead, we need to think carefully about which intervention works best for whom and in which context.
What does international research mobility mean to you?
BK: Technology facilitates unprecedented international research mobility, with the ability to easily use videoconference programs or texting programs to communicate. International research mobility through technology allows me to easily start engaging in research in a new country, because all of my resources are mobile through my laptop, internet connection, and cloud resources. That said, despite this technology, we are often not aware of what research others in different countries are conducting, when we do not meet in person. The Humboldt Centre's Short Term Grant was a great opportunity for me to make connections in Germany and establish a foundation for a long-term research collaboration.
LK: I am still surprised how little connection there is between researchers on both sides of the pond in many fields, including health psychology and public health. This also leads to researchers in the US and Europe focusing on very different topics, for example when it comes to studying indicators for social inequality in healthcare – although the underlying mechanisms may not be that different, and we could learn a lot from each other.
How did the current challenges influence your cooperation?
LK: Due to the pandemic, many conferences were cancelled, which are usually the main way of networking. During this time, social media has become more and more important to form new collaborations.
BK: Through technology, I am able to communicate with my new colleagues in Germany as easily as colleagues who live in another state in the United States. The pandemic forced us to quickly embrace these technologies and integrate them into our research and collaborations.
The Grantee and her Host
Dr. Becca Krukowski is a Professor of Public Health Science at the University of Virginia. Her research focuses on using technology to increase to evidence-based behavioral program for adults in order to reduce cancer risk. She focuses in particular on behavioral weight management programs, self-monitoring behaviors, and increasing access to rural communities. She is funded by the US National Institutes of Health.
Dr. Laura M. König is Junior Professor of Public Health Nutrition at the Faculty of Life Sciences, University of Bayreuth. Her research focuses on developing digital and choice architecture interventions to promote healthier diets. She completed her PhD in Psychology at the University of Konstanz in 2018. Before joining UBT in 2020, she was a postdoctoral fellow funded by the German Research Foundation (DFG) at the University of Cambridge.