Meet the Fellow: Abdelmjid Kettioui
When Muslims Stop Believing –
​Moroccan-German Research on Nonreligion in North Africa and Its Diaspora

When Abdelmjid Kettioui received his visa, he boarded a plane within two days so as not to lose more precious time to start his Junior Fellowship at the University of Bayreuth. With his host, Paula Schrode, Professor for the Study of Religion with focus on contemporary Islam, they talk about the increasing importance of researching nonreligion and of their rich programme to advance their spirited collaboration.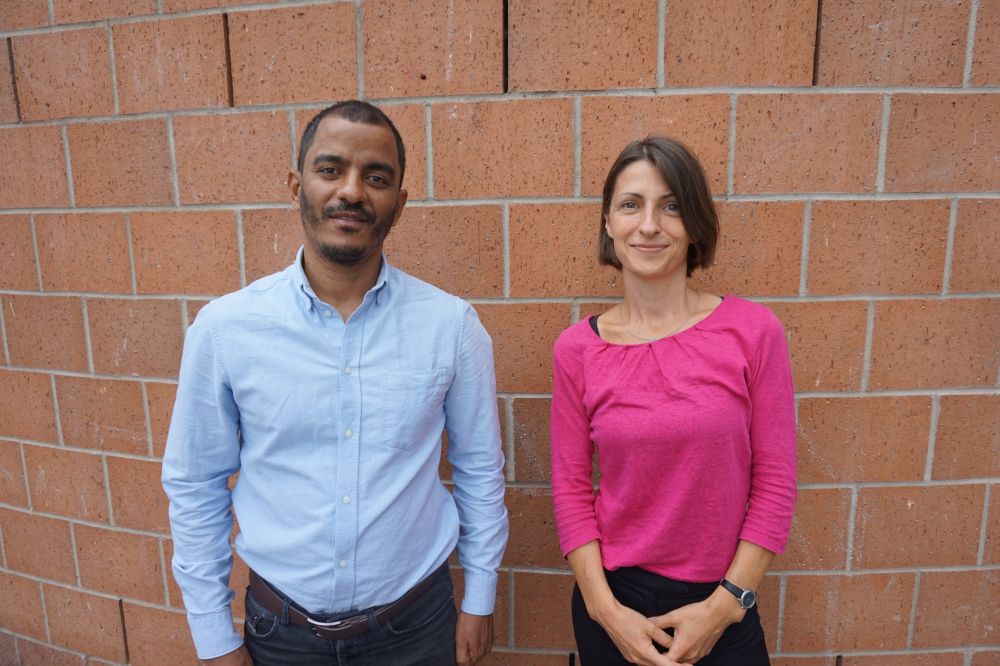 What are the foci of your joint research funded by the Junior Fellowship?
Abdelmjid Kettioui: Whether in the Euro-American or the Amazigh/Arab-speaking world, religion has been the focus of scholarship in departments of the study of religion and across a wide spectrum of disciplines within the humanities. These include anthropology, ethnography, cultural, media and language studies. Following the recent nonreligious turn, very little has been done to understand articulations of nonreligion in North African and Arab contexts. Our project aims to fill the gap in scholarship of North African nonreligious voices and positions in the diaspora at the intersection of subculture, activism, non-activism and knowledge production.
This project is envisioned to yield two publications on Moroccan nonreligious activism in the diaspora. It has also paved the way for a collaborative publication on the reception of an Egyptian-German nonreligious activist both in Morocco and Germany. We are also planning to organise a panel on nonreligion in Muslim majority countries to take part in a major upcoming conference.
Paula Schrode: While we are still used to speaking of the "Islamic world" as a world culturally determined by Islam, in recent years we are witnessing a certain upsurge of articulations of "non-Islam" in various countries with a Muslim majority population. These instances of non-Islam differ according to political and historical contexts: in Turkey, for example, many young people claim that their disgust with the ostentatious pious government, which is often perceived as hypocritical, made them turn away from religion.
In what way is your work interdisciplinary, and what does interdisciplinarity mean to you in academic work and life?
PS: The study of religion is interdisciplinary in itself: we consider religion as part of social and cultural processes, so we always draw from various disciplines. In this project, one member is a former student of Islamic theology in Turkey, which adds interesting perspectives.
AK: Moroccan nonreligious activists in the diaspora are expats who became popular not because of leaving Islam but for being activist about it, especially after the so-called Arab Spring. It is therefore incumbent on us to theorise the interplay between activism and non-activism in informal networks to understand the nonreligious, intellectual and activist trajectories of these norm shakers. This project draws on a wide range of disciplines ranging from ethnography to diaspora studies to cultural studies to media studies to language studies to religious studies as well as on concepts of decoloniality to understand the intricacies of doing nonreligion with a vengeance, from a distance.
What is in your opinion the future of your field / in what way can research on the study of religion contribute to meet the urgent challenges of our time?
AK: The study of nonreligion, especially in North Africa, is still in its infancy. 9/11 and the Arab Spring are two landmark events that projected the way in which Muslims at home and in the diaspora relate and unrelate to religion. To understand radicalising and deradicalising trends in majority Muslim countries and Muslim diasporas, it is crucial to tap into informal everyday articulations and negotiations of religiosity and non-religion in the virtual and actual public space.
PS: I would like to add that in the perception of Muslims in the West, there is still often a very homogenous picture of pious people whose life and thinking are determined by centuries-old doctrines. Our research contributes to a more nuanced understanding: Islam is also dealt with in a critical manner, traditions are revised as well as rejected. Popular religious culture is very much in flux: many trends are only short-lived, and someone who was a Salafi at 16 may be an atheist in his twenties.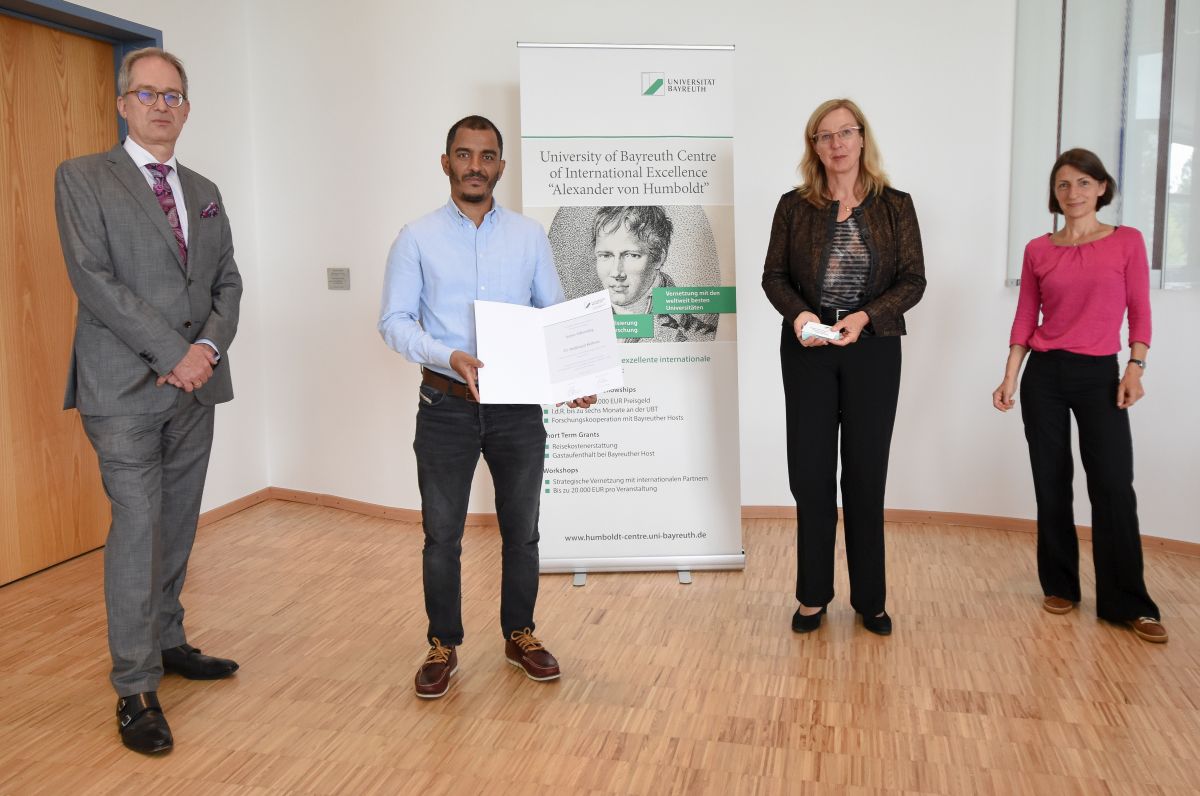 From left: President of the University of Bayreuth, Prof. Dr. Stefan Leible, Junior Fellow Dr. Abdelmjid Kettioui, Executive Director of the Bayreuth Humboldt Centre, Prof. Dr. Anna Köhler, and host Prof. Dr. Paula Schrode
What does international research mobility mean to you? (Re: Covid, Brexit, resurging nationalisms,…)
AK: For me, international research mobility is crucial for knowledge production, co-production and dissemination. Imposing digital forms of academic collaborations, Covid-19 has dealt a blow to research mobility. Also, to my knowledge, you cannot apply for the British Academy research fellowships unless you are a UK citizen or have been affiliated with a UK institution in an official manner. For non-UK academics, Brexit means placing more hurdles on international research mobility. I highly appreciate this research fellowship at the University of Bayreuth as it offers better and humanist responses to the restrictions scholars have to face due to resurging nationalisms and the recent pandemic.
PS: In research on a transnational topic such as ours, we depend on bringing together perspectives from different places and angles. For example, some of the activists in our field of research have their audience in Morocco as well as in Germany. Reactions to them depend very much on the respective context: whereas an atheist voice in Morocco is considered progressive, in Germany it may also become exploited for an anti-Muslim racist agenda. The quality of research is therefore very much connected to research mobility.
What, in your opinion, is the role of a researcher in society?
AK: For me, the role of the researcher is to unsettle our received wisdom, ask disturbing questions about emerging socio-political, economic, cultural and artistic trends. It is to deepen our knowledge of society by identifying inherent and emerging patterns of continuity and change in a world where global dynamics inform local politics and reshape religious, cultural, linguistic subjectivities and ontologies.
PS: This implies that we should not only react to a public demand, but we also have to work on issues that are overlooked by the general public. While there is a high demand for research on radical Islamic movements, we should not allow this topic to dominate our societies' picture of the so-called "Islamic world".
How did the current challenges influence your cooperation, e.g. re: networking, academic exchange, digitalisation, campus life,… ?
AK: Covid-19 disrupted my initial travel plans. It was stressful. We were under lock-down in Morocco and air travel was suspended. I waited for weeks for the visa, and I did not lose hope to come to Bayreuth and meet and converse with my host and members of the department of religion in person. I felt triumphant and grateful as I arrived in Bayreuth and began to work in my office at the department of the study of religion. This was especially so as I have fond memories of my earlier visit to Bayreuth university in 2010 where I attended a one-month summer academy organised by BIGSAS.
Despite the pandemic and its related complications, I managed to give a lecture and have conversations with my kind host Paula, faculty, and doctoral researchers. Paula organised a workshop in Jena where I presented with other colleagues. I received precious feedback in the two events as well as from the extended conversations with Paula and Benedikt Erb, who is working on a similar topic. Benedikt and I are working on a joint research project on the reception of an Egyptian-German nonreligious activist in Germany and Morocco. We are looking forward to a panel presentation at an upcoming conference, and hopefully to further research collaborations.
PS: Meeting physically and coming together and discussing with other scholars was just great after such a long period of digital networking. We are very grateful for Abdelmjid's opportunity to come to Bayreuth, and we had a really fruitful exchange with other colleagues from Bayreuth and beyond during the last weeks.
The Fellow and his host
Abdelmjid Kettioui is assistant professor of English and Cultural Studies at L'École Nationale Supérieure d'Arts et Métiers (ENSAM) at the University of Moulay Ismail University, Meknès- Morocco. Dr. Kettioui earned his PhD from Sidi Mohammed Ben Abdellah University in Fez in 2018, with a dissertation on geopolitics, faith and sexuality in English Barbary captivity narratives. He had been a research fellow in the DAAD-funded program the Maghreb in Transition: Media, Knowledge and Power (2016-2018). Dr. Kettioui's research interests focus on Moroccan youth digital subcultures, diasporas, artistic, cultural and literary non/movements.
Paula Schrode is Professor for the Study of Religion with a special focus on contemporary cultures of Islam at the University of Bayreuth. She did her PhD in Islamic studies at the Collaborative Research Centre (SFB 619) "Ritual Dynamics" at the University of Heidelberg. Her main research focus is on the transnational dimensions of Turkish Islam.
Mirjam Horn-Schott