First Strategic Scientific Workshop
​October 7, 2021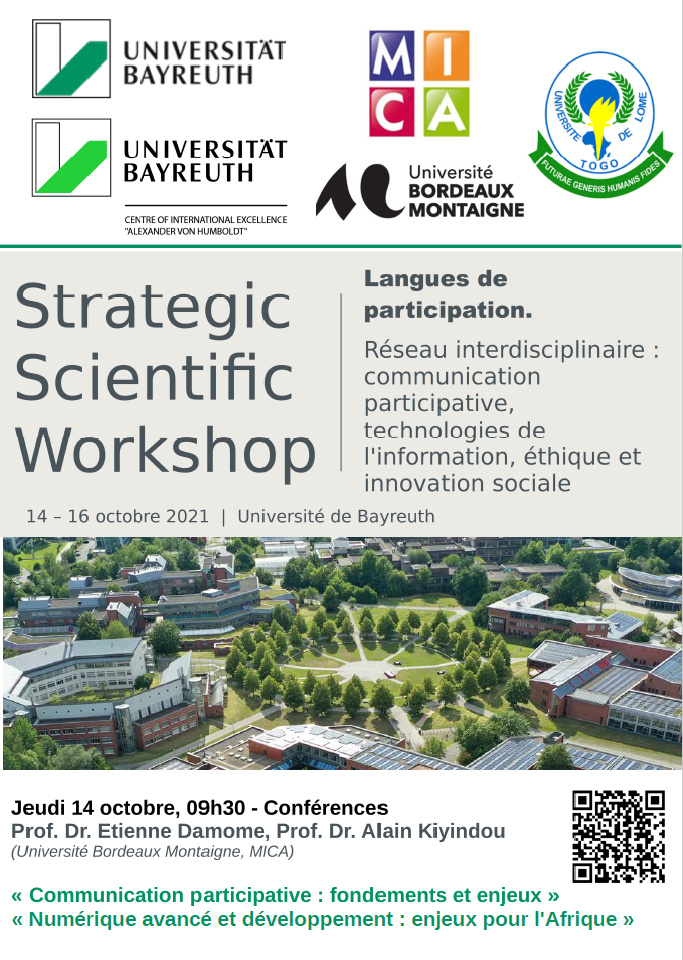 We are thrilled to announce the first Strategic Scientific Workshop, which will take place from October 14-16, 2021 at the University of Bayreuth. "Langues de participation. Mise en réseau interdisciplinaire autour de la communication participative, des technologies de l'information, de l'éthique et de l'innovation sociale" is coordinated by the Chair of Intercultural German Studies and the Gateway Office of UBT in Bordeaux. Hosts are Professor Dr. Gesine Lenore Schiewer with Professor Dr. Étienne Damome, Mediation, Information, Communication, Arts MICA, Université Bordeaux-Montaigne (France), Professor Dr. Alain Kiyindou, Directeur du MICA, UNESCO Chair at the Université Bordeaux-Montaigne (France) and Professor Dr. Gilbert Dotsé Yigbe, Department of German Studies at the Université de Lomé (Togo).
The focus of this Workshop is the interdisciplinary study of participatory communication including social innovation, information technologies and ethical questions. The Workshop is designed to prepare a project for the 2021 German-Togolese reform partnership and will facilitate various synergies among participants.
Interested parties may browse the programme here, and register here.