Strategic Scientific Workshop: Langues de participation
Strategic Scientific Workshop funded by the Bayreuth Humboldt Centre:
German-French-Togolese cooperation on participatory communication issues

From 14 to 16 October 2021, the first strategic workshop was held between the University of Bayreuth (Prof. Schiewer, Chair of Intercultural German Studies), the University of Bordeaux-Montaigne (Prof. Damome and Prof. Kiyindou, MICA laboratory and UNESCO Chair), the University of Lomé (Prof. Yigbe and Dr. Assemboni, Chair of German Studies; Dr. Yao-Baglo, ISICA Institute). The three academic partners were joined by the Bavarian training centre BBW (Mr Aboi).
A total of 12 participants met to discuss issues of participatory communication and its societal impact, particularly through higher education. The objective was twofold: on the one hand, to strengthen the mutual knowledge of research activities between participants and on the other hand, to prepare the submission of a project to the GIZ, which is scheduled to be implemented in Lomé in 2022.
This workshop is the first step in a cooperation that all the partners wish to perpetuate. A return phase is therefore planned in Bordeaux within a year. It aims to continue the exchanges and to identify new avenues of cooperation, particularly in the context of developing an international network of experts in participatory communication. While the GIZ project initially focuses on the higher education sector, this new network of partners could broaden the scope of the research to other sectors and non-academic partners.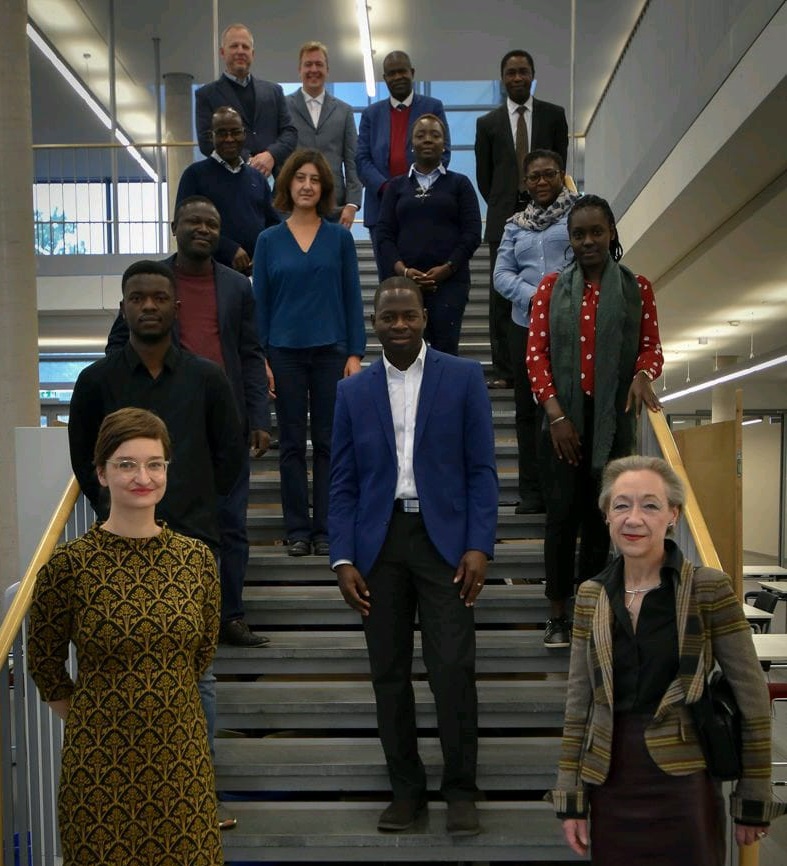 Another important part of the workshop was the doctoral training through the active participation of four doctoral students, who will take part in the project with the GIZ. Thanks to their experience in Bayreuth some of them even consider returning as a postdoctoral researcher.
The workshop was supported by the Strategic Scientific Workshop programme of the Bayreuth Humboldt Centre and by the international relations of the University of Bayreuth, via its liaison office in Bordeaux. The latter has notably enabled networking between researchers from Bayreuth and Bordeaux-Montaigne and has assisted the project leaders in their funding applications.
Testimonies of participants


"The strategy workshop allowed us to have an international working meeting where the very topical issue of participatory communication could be explored further across disciplines. In this way, we were able to advance the global networking of research in this field. This is what we can now continue to work on intensively. (Prof. Schiewer)
"This is the first time I have been to Germany and Bayreuth. This workshop was of great scientific interest because although I am from the Information and Communication Sciences, I was very edified by the presentations of Professors Kiyindou and Damome on participatory communication and advanced digital (value creation). The discussions with each other as well as the doctoral seminar allowed me to have an idea of the research objects of each participant, including those of my colleagues from the University of Lomé. In addition to the scientific interest, the intercultural dimension was very interesting during these three days of work where we also discovered other structures of the University such as the Humboldt Centre. (Namoin Yao Baglo)
"In Bayreuth, from 14 to 16 October 2021, so many seeds of ideas in the field of participatory communication and inclusive education were sown. The harvest will surely be abundant in Lomé." (Gilbert Dotse Yigbe)
"I remember the interdisciplinary approach of our exchanges, the opportunity that the workshop provided for the constitution of a Germany-France-Togo network of researchers who got to know each other and work together and, of course, the welcome of our hosts and the conviviality that prevailed. (Etienne Damome)
"The exchanges in Bayreuth reinforced the need to strengthen scientific cooperation between our three institutions and enabled us to identify fruitful avenues for collaboration. (Alain Kiyindou)
"The workshop on participatory communication at the University of Bayreuth allowed me to delve a little deeper scientifically into the concepts of participation and communication in their new forms of manifestation in the digital age." (Meweptaah Aboi, BBW)
Testimonies of PhD candidates


"As a doctoral student, it was a godsend to have so many experienced ears listening to me very actively during the doctoral seminar. The exchanges were rich and important. First trip to Germany, great memories..." (Kadidja Traore)
"The exchanges in Bayreuth reinforced my interest in the theme of participatory communication. As a young researcher in Information and Communication Sciences, I remember it as an interdisciplinary and intercultural meeting. It has made me want to come back to Bayreuth as part of a post-doctoral mobility". (Augustin Noukafou)
Awardees of the Bayreuth Humboldt Centre


Professor Gesine Lenore Schiewer
Chair for Intercultural German Studies, University of Bayreuth
Professor Etienne Damome
Mediation, Information, Communication, Arts (MICA), Université Bordeaux-Montaigne, France
Professor Alain Kiyindou
Directeur du MICA, UNESCO Chair, Université Bordeaux-Montaigne, France
Professor Dotsé Yigbe
Linguistics and Literature Studies, Université de Lomé, Togo